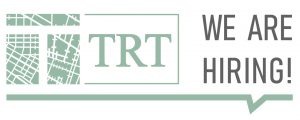 Milan, August 2023
Job profile: sustainable urban mobility policy analyst

We aim to recruit a senior/intermediate consultant with expertise in sustainable urban mobility policies to reinforce our specialised and dynamic team in the Milano office.
The company
TRT Trasporti e Territorio is an Italian consultancy specialised in economics, planning and modelling of transport and mobility. The company provides consultancy services and carries out research activities in quantitative analysis, planning and economic evaluation of transport and land use policies. Founded in 1992, with premises in Milano and Brussels, TRT has gained a strong reputation in its professional and R&D activities supporting public and private decision makers. TRT staff includes experts in the fields of transport modelling, engineering, economics, urban and regional planning, statistics and operation research and is accustomed to working in multidisciplinary teams and international consortia.
In Italy TRT clients include the different levels of the Public Administration (from Ministries, regions and, municipalities) as well as transport services operators and real estate investors. In Europe and in extra-European countries, TRT carries out consultancy and research activities for the European Commission, the European Parliament and for financial institutions such as the World Bank and the European Investment Bank.