SUMP Topic Guide on Planning for Attractive Public Transport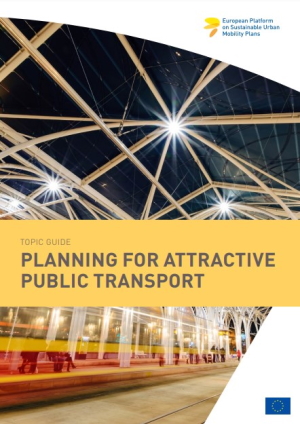 We are pleased to announce today's publication of the new SUMP Topic Guide on Planning for Attractive Public Transport, for which TRT is the main author.
Public transport should be regarded as a challenge to be made more attractive and resilient, through the design of Sustainable Urban Mobility Plans (SUMPs).
Urban planners need to go beyond "business as usual" to achieve a tangible modal shift away from private vehicles, towards public transportation. This is a necessary step in the fight to reducing emissions and tackling global warming.
To support urban planners and transport practitioners in this process, this SUMP Topic Guide has been developed by the second Policy Support Group of the CIVITAS ELEVATE Coordination and Support Action, with the involvement of five experts from selected organisations (International Association of Public Transport – UITP, European Passengers Federation – EPF, Technical University of Berlin – TUB, City of Gdynia, Gothenburg Transport Operator), the chair of the CIVITAS Policy Advisory Committee, TRT and 12 stakeholders from the urban mobility sector.
It provides guidance on public transport in the mobility planning and implementation process, in order to achieve more attractive public transport.
The Topic Guide is part of a compendium of EU guidance documents, complementing the revised second edition of the SUMP Guidelines.
Read the publication here. This and other SUMP Topic Guides can be accessed via the Eltis website here.