Consultancy assignment for specialist transport engineering activities related to the "Pre-feasibility study for a regional railway network in Sardinia" on behalf of Uniontrasporti
TRT collaborated with GVG Engineering on an in-depth study on the current railway network in Sardinia, defining its characteristics and potential, for a study requested by Uniontrasporti.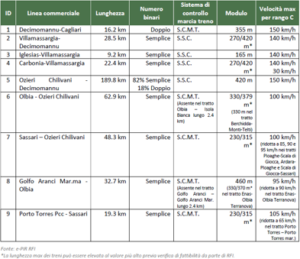 TRT analyzed the current railway network in terms of extension and technical characteristics of both the Rete Ferroviaria Italiana (RFI, main Italian railway infrastructure manager) and secondary narrow-gauge (ARST) networks; the analysis of services offered; the analysis of production nodes and tourist demand; the definition of the needs of the local population to favor the accessibility of inner areas and support regional economic development; the definition of requirements; and the identification of modal interchange points between passenger services.
This was accompanied by an analysis of the interventions planned on networks according to the Economy and Finance Document 2022 ("Documento Economia e Finanza" of Italian government), the Framework Agreement between the Region of Sardinia and RFI, the RFI 2022 Business Plan, regional planning instruments, and the three-year plan of works of ARST.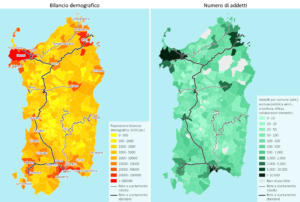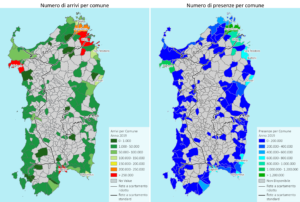 The services description was based on an analysis of the timetables published on institutional websites of individual organizations. The analysis focused also on tourist services, such as the Green Train ("Trenino Verde", a touristic service on dismissed rail lines), and urban services, above all MetroCagliari and MetroSassari.
This analysis led to the identification of interchange nodes, which were described in terms of the services present.
The demand analysis completes the definition of the knowledge framework, identifying the main municipalities in terms of population and employees, tourist demand over the years and identifying the most attractive municipalities.
Eventually, the definition of needs analyses the information gathered during several meetings held with local stakeholders, trying to define the priorities of the territory.
The study is completed by the description of possible project interventions, constraints and criticalities of the network, which TRT supported in defining.
---
Projects
Project Description
CLIENT
GVG Engineering for UNIONTRASPORTI
PERIOD
2022 – ongoing
CONTACT
Davide Tessarollo
tessarollo@trt.it