Alessandria – Sustainable Urban Mobility Plan and updating of the Urban Traffic Plan
On behalf of the Municipality of Alessandria, TRT drafted the Sustainable Urban Mobility Plan (SUMP) and updated the  Urban Traffic Plan (UTP).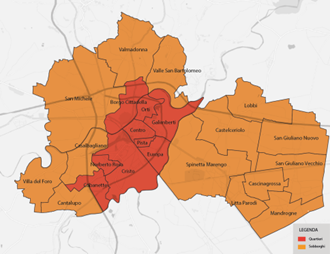 The SUMP/UTP process has been developed along four steps:
the background analisys of the mobility-related sector and its environmental, social and economic impacts in Alessandria;
the identification of the strategies for the construction of the SUMP/UTP scenarios, as a result of the background analysis as well as the objectives and the priorities raised by the local Administration;
the design of different scenarios: reference solution and SUMP scenario (short period – 2 years and long period – 10 years);
the evaluation of the alternative scenarios through the implementation of an AIMSUN transport model for the urban area.
In addition, specific detailed documents such as  the Parking Plan and the Urban Public Transport Plan have been developed.
---
Projects
Project Description
CLIENT
Municipality of Alessandria
PERIOD
2016 – 2017
CONTACT
Simone Bosetti
bosetti@trt.it