HiReach, a project funded by the Horizon 2020 EU research program, addressed the specific mobility needs of segments of the population who are vulnerable to transport poverty and social exclusion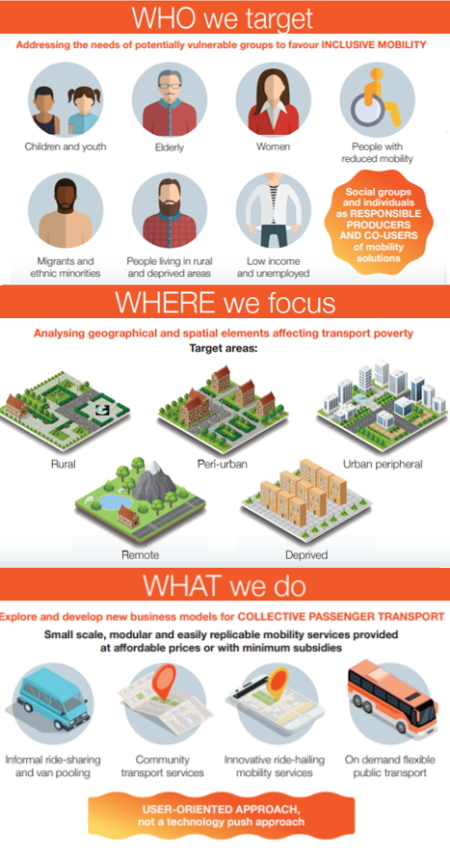 Context and overall objectives of the project
HiReach addressed the specific mobility needs of those segments of the population vulnerable to transport poverty and social exclusion such as people with temporarily or permanent reduced mobility, children, young and elderly people, women, migrants, ethnic minorities, low income, unemployed and people living in isolated and deprived areas. The project also analysed geographical and spatial elements affecting transport poverty to figure out inclusive mobility options that can properly work in urban-peripheral, peri-urban, rural, and remote or deprived territories.
By combining different attributes of available transport concepts and bottom-up initiatives with smart operational schemes and IT applications, HiReach was aimed at the creation of viable business models for small scale, modular and easily replicable mobility services that can be provided at affordable prices or with minimum subsidies, targeting low-density and transport poor segments of the population.
The HiReach mechanism for exploring, generating and testing inclusive mobility solutions was based on the creative work of startups and innovative entrepreneurs, but also on social innovation through the direct involvement of different social groups as co-owners of the proposed solutions. The overall ambition was to generate project results in strict linkage with developers and final users.
Fieldwork activities have been conducted in 6 European study regions: Counties of Esslingen and Göppingen (Baden-Württemberg, DE), Naxos and Small Cyclades (GR), Inner Area Southern Salento (Puglia Region, IT), Guarda (PT), Buzau (RO), North and South-East Luxembourg.
TRT was the project coordinator, leading a 9-partner international consortium.
Summary of the project work
The first analytical phase of the project explored travel behaviour and social habits of targeted vulnerable groups while assessing their travel demand and mobility needs. An extensive desk research across the EU Member States condensed available data, recent trends and scientific literature associated with transport poverty by targeting spatial specificities, mobility socio-economic landscape(s) as well as visible and hidden mobility needs and attitudes. This step required also the (re)-elaboration of the concept of transport poverty including a complex assessment of inequality and disadvantage, distinguishing between transportation-related disadvantage, social disadvantage and social exclusion.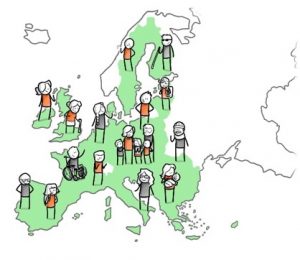 A cornerstone of the HiReach approach was the micro-analysis conducted on the field in six different countries. A set of 47 interviews with experts and stakeholders and the direct involvement of 166 vulnerable users through different focus group sessions served as validation of desk research activities and mobilization of local communities as co-owners of the solutions. In particular, TRT conducted fielwork activities in the Southern Salento area, focusing on the transport challenges of women and people with reduced mobility.
A visual and descriptive representation of the identified needs and attitudes, featuring also mixed vulnerability characteristics and traits, was transposed into the elaboration of 6 Personas (see HiReach Insight Package).
The following exploratory phase critically assessed the limits and drawbacks of the current supply of public transport services and other available mobility options, in terms of inclusion and accessibility for the social groups targeted by the project and including elements like the EU and Member States legislative, institutional and organizational frameworks. Existing funding sources, particularly for the potential of pooling them to support inclusive mobility, were also identified for each service type.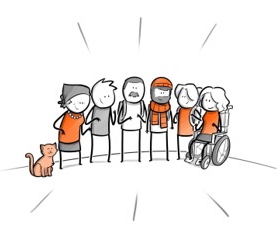 HiReach deeply analysed 20 best practices of inclusive mobility solutions, which were considered in respect to the ability to fulfil the needs of the different (multiple) user groups vulnerable to exclusion. The project focused on their accomplishments and limitations, their business models and management scheme and examined the social and technological innovations brought by each solution. Those solutions with the highest potential for replication were validated in a second round of focus groups that involved 95 users.
The project summarised drivers and barriers and elaborated recommendations on how to implement inclusive, affordable and reliable mobility solutions to cope with transport poverty. A set of guidelines have been addressed specifically to users and communities; policy makers and public authorities; entrepreneurs and investors.
In last step, following a multidisciplinary ideation workshop held in Brussels in March 2019, a specific acceleration programme for ideas and Minimum Viable Products (MVPs) was launched. It was called HiReach Startup Lab and involved 25 European startups.
The work of the startups was supported by an online toolbox that gathered a total of 116 open software tools and APIs; a practical guide describing trends, technical advances, barriers, and potential paths of opportunity for market exploitation; mentoring and coaching support plus the provision of financial support linked to three subsequent competitive phases.
Ten startups reached the MVP stage and five finalists tested and evaluated their products and services under real-life conditions. This happened by matching startups with prospective hosts scouted over 50 suitable pilot hosting candidates throughout Europe.

In concrete, the startup Childfy (ES) developed and tested a carpooling system to support families and their children; CityMaaS (UK) embedded machine learning algorithms in a new and inclusive journey planner app developed for a public transport operator; Dreamwaves (AT) developed a public transport-integrated navigation and orientation application to assist blind and visually impaired people; Hoop (ES) developed carpooling matching options in rural and peri-urban areas that are also linked to medical appointments, Nemi (ES) evaluated the feasibility of a demand-responsive public transport service in a remote area.
The final activites of HiReach were devoted to the prototyping of 7 distinctive business models for inclusive mobility solutions and the analysis of their transferability and scalability at European level.
For more information
---
Projects
Project Description
CLIENT
European Commission Innovation and Networks Executive Agency (INEA)
PERIOD
2017 – 2020
WEBSITE
www.hireach-project.eu
CONTACT
Simone Bosetti
bosetti@trt.it