TRACECA IDEA I – Transport dialogue and interoperability between the EU and its neighbouring countries and central Asian countries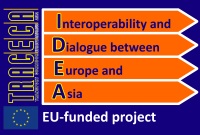 Funded by the Directorate General for Cooperation and Development of the European Commission within the framework of the TRACECA Programme (TRAnsport Corridor Europe Caucasus Asia), the IDEA project aimed at improving the functioning of the transport corridor connecting Europe with Central Asia.
The beneficiary countries of the TRACECA programme are Georgia, Armenia, Azerbaijan, Ukraine, Moldova, Kazakhstan, Tajikistan, Uzbekistan, Kyrgyzstan, Turkmenistan, with Romania, Bulgaria and Turkey as observatory countries.
The project activities included the construction of the regional transport model, the deployment of a capacity building program for the national officers on themes like project planning and assessment, the definition of indicators to measure the corridor attractiveness and the organization of two international conference where the countries representatives presented their transport project along the corridors to banks and international financial institutions.
The consortium led by TRT was composed of PTV, Dornier Consulting and Alfen.
---
Projects