Data gathering and analysis of the impacts of cabotage restrictions on combined transport road legs: support study for the evaluation of Regulation 2020/1055 (Mobility Package 1)
Regulation 2020/1055 will allow Member States to apply the so-called cabotage restrictions to road legs of international combined transport operations if those road legs do not cross a border.
The objective of the study was to provide the Commission with an analysis on the market impacts of the new restrictions. To that end, TRT conducted a survey among major combined transport organisers and terminal operators, covering all modal combinations and a wide range of Member States.
The survey focused on the collection of data and information on combined transport road legs, and on the compliance strategies and impacts foreseen by the respondents.
Based on the results of the survey, the study evaluated the quantitative impacts of cabotage restrictions on the European combined transport market, including estimates of the expected change in combined transport volumes, market share, modal shift and other transport activity indicators.
According to the results, the rail-road segment would suffer more than the other modes considered (short sea shipping and inland navigation) mainly because of the tighter competition of the road only carriage.
Relevance of the various compliance measures for CTOs (% of CT operations concerned by each measure)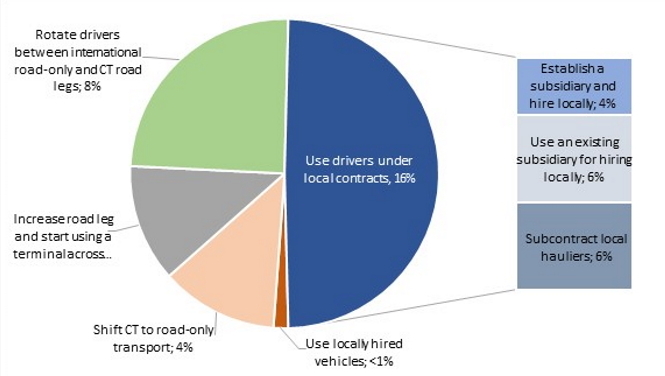 For more information
Mobility Package 1 and impacts on combined transport sector, the study carried out by TRT. Go to the publication
---
Archivio progetti
Project Description
CLIENT
Commissione Europea, DG MOVE
PERIOD
2020
CONTACT
Giuseppe Galli
galli@trt.it