Job profile: Transport Modeller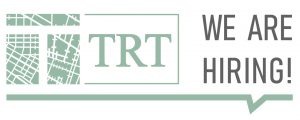 Job profile for transport modeller – Feb 2021
TRT Trasporti e Territorio is an Italian transport consultancy specialised in economics, planning and modelling. The company provides services and carrying out research activities in quantitative analysis, planning and economic evaluation of transport and land use policies. Founded in 1992, with premises in Milano and Brussels, TRT has gained a strong reputation in its professional and R&D activities supporting public and private decision makers. TRT professional staff includes experts in the fields of transport modelling, engineering and economics, urban and regional planning, statistics and operation research and is accustomed to working in multidisciplinary teams and international consortia.
Description of work:
We aim to recruit a junior/intermediate Transport Modeller to join our team in the Milano office. The position will involve working as part of a multidisciplinary team in transport modelling projects, including EU scale models such as ASTRA  and TRUST  and urban and motorways models. The candidate will work in research projects and consultancy services and will operate in an international environment also in partnership with companies and universities of different EU countries. He or she will develop quantitative analysis, support the drafting and publication of reports, prepare and present scientific articles and contribute to communication and dissemination tasks within the projects. This is a full time role.
Skills and qualifications:
Highly motivated individual with:
Graduation in a related discipline such as engineering, statistics, informatics, mathematics.
Theoretical knowledge and previous experience in transport modelling applications (design, implementation, input data elaboration, calibration and validation)
Knowledge of System Dynamics software packages.
Knowledge of programming languages (e.g., Python).
Knowledge of PTV VISUM software package.
Analytical, numerical and problem solving attitude.
Good verbal and written communication skills, e.g. minute taking, drafting reports and delivering presentations.
Very good command of English (reading, writing and speaking).
Readiness for travel.
Knowledge of German is an advantage.
Please send your CV, motivation letter and references to info@trt.it
Milan, February 2021