Improving the Fuel Economy Policies Implementation Tool (FEPIT)
The FEPIT (Fuel Economy Policies Implementation Tool) is used by the International Energy Agency (IEA) for estimating the impact of some policy measures on the average fuel economy of newly registered cars. This tool is expected to support decisions to implement policy schemes aimed at getting the Global Fuel Economy Initiative (GFEI) target of 4.2 lge/100 km in the year 2030.
The model allows to analyse the impacts of several policies aimed at reducing the level of fuel duties taking in consideration the specification of the vehicle fleet of a particular country and of different scenarios.
This study provides an updated version of the FEPIT model which contains new parameters coming from a more rigorous methodology. In this version a user guide has also been produced.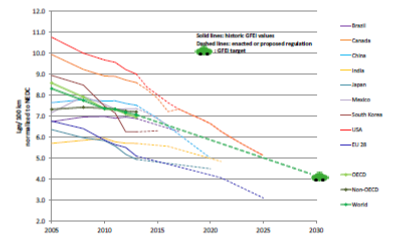 ---
Projects
Project Description
CLIENT
IEA – International Energy Agency
PERIOD
2015
CONTACT
Davide Fiorello
fiorello@trt.it