Update of the General Urban Traffic Plan (PGTU) of Aosta
The study concerned the update of the Aosta General Urban Traffic Plan (PGTU) already prepared by TRT Trasporti e Territorio about 10 years ago as part of the Metis Consortium.
The city of Aosta (about 35,000 inhabitants) concentrates one fourth of the Aosta Valley regional population and plays an important role in regional mobility thanks to its services and economic activities.
The activity was launched in November 2019 and it consisted of the following activities:
the update of the key mobility factors – demographic and socio-economic structure, transport networks and services supply, mobility demand, environmental and social impacts;
the analysis of the on-going planning tools, including an assessment of the state of implementation of the measures included in the previous PGTU (2011);
the identification of the urban mobility system's strengths and weaknesses in order to define the set of strategies and interventions to be included in the new PGTU;
the design of the Reference and the Planning scenarios with measures related to: road network and its regulation, public transport system, cycling network, parking system, mobility management, electric mobility, urban logistics and ITS systems;
the definition of detailed interventions for specific locations – the Arch of Augustus area, the new university complex area, the railway station area – both from urban planning and from mobility system points of view.
The PGTU was approved by the Municipality Council on February 23rd, 2022, with official act no. 23.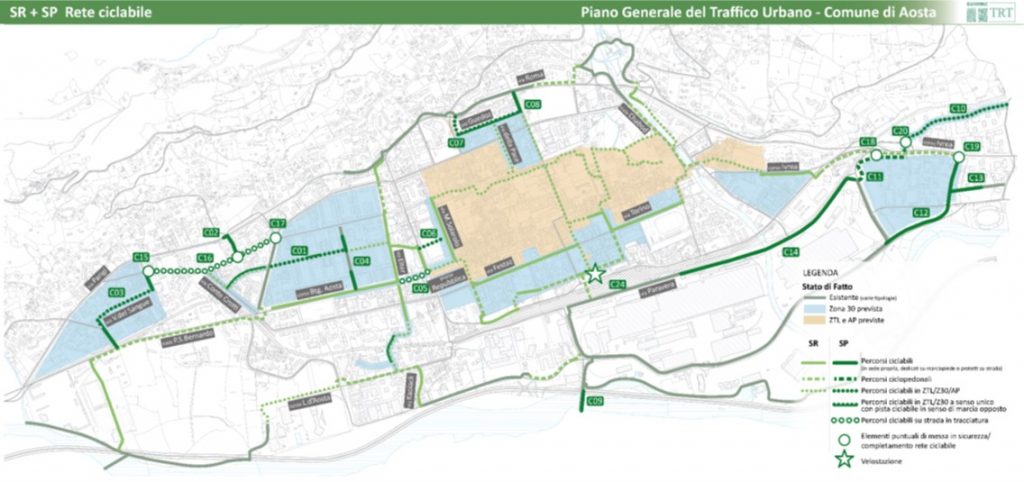 ---
Projects
Project Description
CLIENT
Aosta Municipality
PERIODO
2019 – 2021
REFERENTE
Ivan Uccelli
uccelli@trt.it